Housing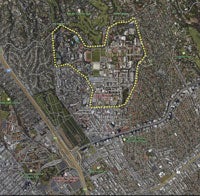 UCLA (perimeter indicated in yellow on the image to the left) is located in the middle of the "Westside" area of Los Angeles. As the name suggests, the Westside is west of downtown, closer to the ocean (about 5miles) east of Santa Monica (right by the ocean), west of Beverly Hills (think expensive), north of the airport (gets you anywhere) and south of the Santa Monica Mountains (great hiking, if you avoid Bel Air and Beverly Hills). The Los Angeles Times website has a good demographic description of the various neighborhoods in Los Angeles and on the Westside. Note that these neighborhoods don't have official boundaries and many websites and publications will divide the area a little different. There is even disagreement on the term "Westside" and what it includes. That said, most students live on the Westside and mainly in areas referred to as Westwood (right around UCLA), West Los Angeles, Mar Vista, Palms, Culver City and Santa Monica.

Many new students choose to live in graduate housing fortheir first year at UCLA. Weyburn Terrace is a seven-building complex with 840 furnished units. It is located in Westwood Village, and is a short walk from the neuroscience buildings on campus. The facilities are modern, and come with all utilities (including cable and internet) included in the rental rate. While getting an apartment in Weyburn Terrace can be quite competitive for most graduate students, a small number of spots are secured each year for incoming NSIDP students. Weyburn Terrace is reserved for single students, but UCLA Housing offers many choices for single and married graduate students. Alternatively, many students will choose to look for off-campus apartments in surrounding neighborhoods around UCLA, including Westwood, Brentwood, Santa Monica, and West LA. The most widely used methods used for finding an apartment include Craigslist, Westside Rentals, commercial realtors and driving around neighborhoods to look for openings. Many of the students in theprogram live with roommates, whereas others prefer to live alone. The UCLA Community Housing Office has many helpful tools, including vacant listings, roommate searches, average rental rates, and other tips for finding an apartment in LA.
Please note that the non-UCLA links given on this website do not constitue explicit or implicit endorsements by either the NSIDP or by UCLA and are given solely as a point of reference.