Courtney Yaeger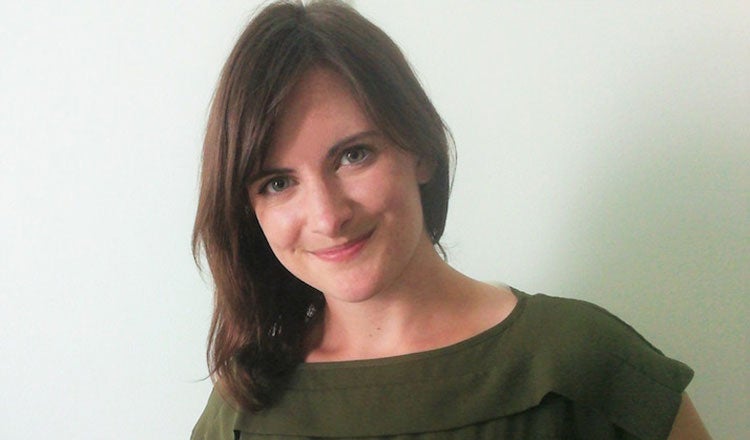 Follow Me For A Week
Morning
(Early) I run almost every morning before I go to lab. I'm training for the LA marathon (my third) and have a lot of miles to put in to be ready. Because I have a lot of imaging and experiments to do this week, when I get into lab I'll do some routine preparations. I will screen specimens and check for any adjustments needed.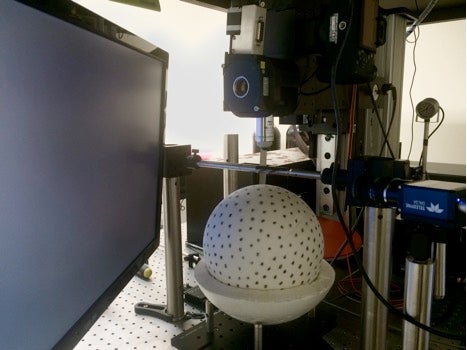 Experimental set-up in the Trachtenberg lab
Afternoon
I'm working on analyzing dendritic calcium events, but there is no set protocol because no one has done it! I'll search the literature for electrophysiological experiments and models of neural activity and plasticity to guide my analysis.
Evening
I will be submitting an NRSA in November, so my evenings are often filled with grant writing.
Morning
I'll do a workout and then hit the graduate student gym before coming in. It's an experiment day so in the morning I will collect baseline data in the morning.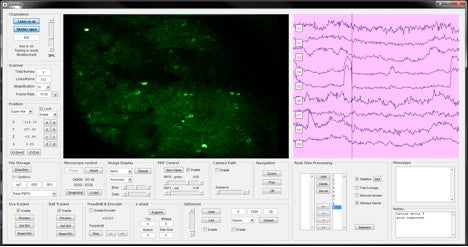 Our recording GUI, showing real-time changes in fluorescence.
Afternoon
Meet with faculty to discuss finalizing a grant. This grant will allow us to collaborate with a group in cognitive psychchology: we want to create an evaluation for our outreach class called Project Brainstorm (I ran the program last year and am still involved in neuroscience outreach events).
Evening
Grant writing: is this done yet?
Morning
My usual morning run will be followed by day two of my experiment. Today I will observe changes in cortical activity after monocular deprivation.
Afternoon
Continue analyzing dendrite data and parsing out local events, back propagation, and modulation with stimulation and changes in behavioral state.
Evening
Grant writing with intermittent breaks with my favorite tv show :)
Morning
It's my day off from running! I get to sleep in a little before starting day three of my experiment, which is a continuation of yesterday.
Afternoon
Meet with Project Brainstorm's new TA to discuss progress on the undergraduate outreach course NS192B and our new plans for Brain Awareness Week 2016.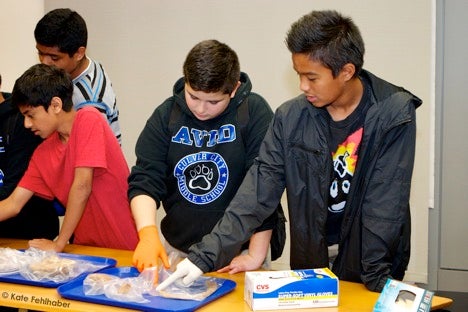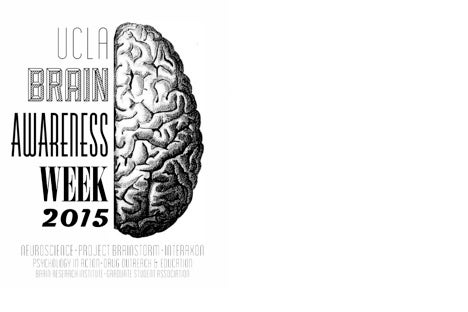 Last year's participants in Brain Awareness Week, our largest neuroscience outreach event.
Evening
Finalize a draft of my grant to send to Josh (my PI) and eat some chocolate to celebrate another step towards submission.
Morning
Early in the morning I'll be putting some miles on my running shoes. It's the last day of my experiment, so I will finish data collection and begin pre-processing the data.
Afternoon
After analyzing data, I like to attend the weekly Synapse to Circuit talk... there's always free beer!
Evening
I'm having a girls'-night-out with some of my friends in Santa Monica. There are a million places to go!
Morning
Sleep in and short run day! I love to take my time in the mornings and make a nice brunch.
Afternoon
If I've got some extra writing or reading to do I like to hunker down at one of my favorite cozy cafes in Westwood: Espresso Profeta.
Evening
It seems there's always something to do on a Saturday night. Although I'm usually just hanging out with friends or going to a favorite bar, I also like to go to the Hollywood Bowl and catch the LA Phil.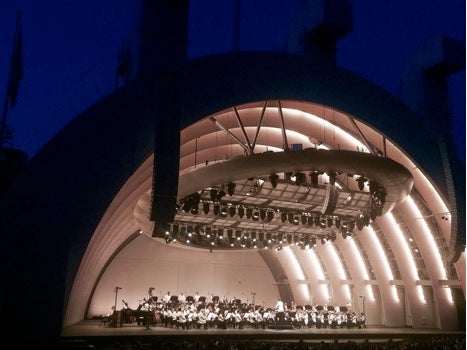 The LA Phil at the Hollywood Bowl, from the best seat I ever had!
Morning
It's long run day! I'll run at least 16 miles in the morning... I like to run through Rustic Canyon and on Topanga trails, but I inevitably end up on the beach.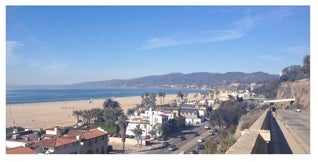 I took this on one of my first long runs in LA, not a bad place to be!
Afternoon
After brunch, I'll need a nap! If I can stay awake, while I've got food on my mind I'll go to the grocery store or the farmer's market.
Evening
Sunday nights are calm... usually I'll wind down with some Netflix or some light reading, and prep my planner for the week.